Storage Units from Diamond Removals
Safe and secure storage units at a low price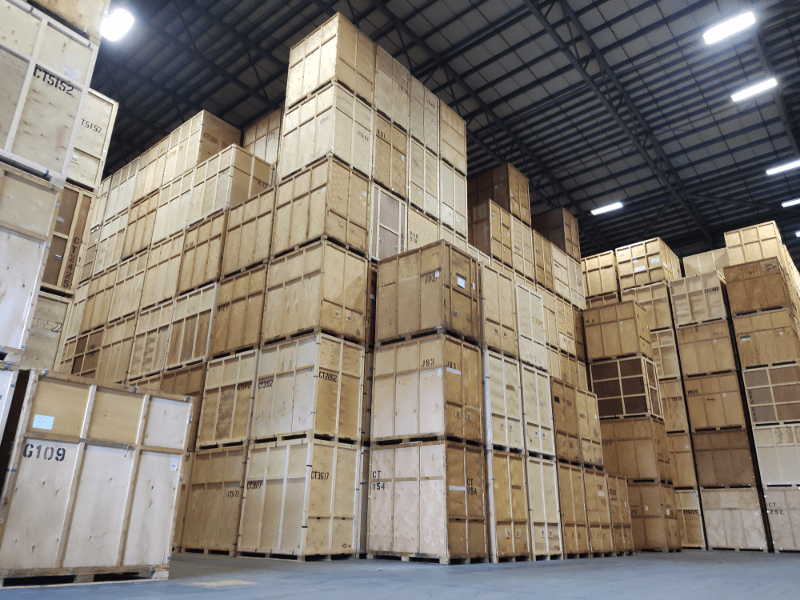 Our primary storage depots are located in London, St Albans, Hemel Hempstead and Dunstable.
They are protected by physical security, and supported by best-of-breed intruder alarms, fire detection, digital CCTV and sound detection.
We have a network of trusted storage partners across the UK and Europe, and can provide secure storage wherever you might be relocating to.
Storage is one of those extra costs that nobody likes to pay.
That's why we keep our storage charges as low as possible, giving you many competitive options if you do require storage.
Removal companies have a unique ability to save you money on storage by, bringing the storage containers to your home or place of work.
We have bespoke built removal vehicles to carry the containers, allowing for minimal contact between load and unload.
This means your items will be handled twice, unless you need to arrange an inspection while goods are in storage.
We carry out a detailed and concise inventory of all items going into the store, signed by your moving crew.
Diamond Removals have all bases covered: If you don't see an option detailed, contact us for free helpful storage advice.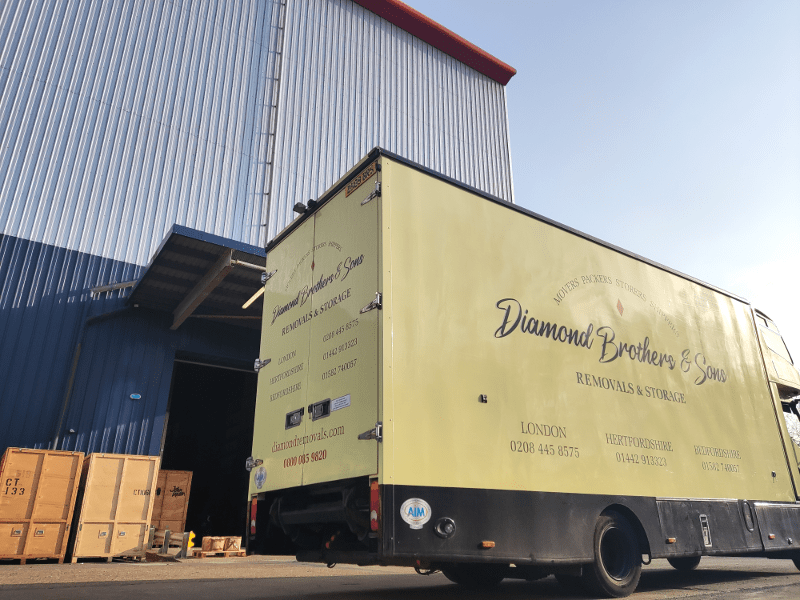 If you really want a completely stress free move, we can arrive a good few days prior to your completion date.
Obviously, this is dependent on the service you have booked.
We will proceed to pack and move all of your non-essential belongings into temporary storage.
After this, we will  then come back on completion day to move only your essential items with the minimal fuss.
Upon completion, we will unload your essential items.
This is after ensuring that you and your family have a comfortable first night in your new home.
Therefore, we can then agree to deliver all the non essential items when you have settled in and unpacked all essentials.
If the unthinkable happens and completion falls through, please rest assured that we can organise, safe, secure emergency storage at very short notice.
You can be reassured that we are understanding of all the potential situations that may occur, and we have prepared well.
This means that you can be comfortable with us, and let us do all of the hard work for you.
Decluttering For Your Move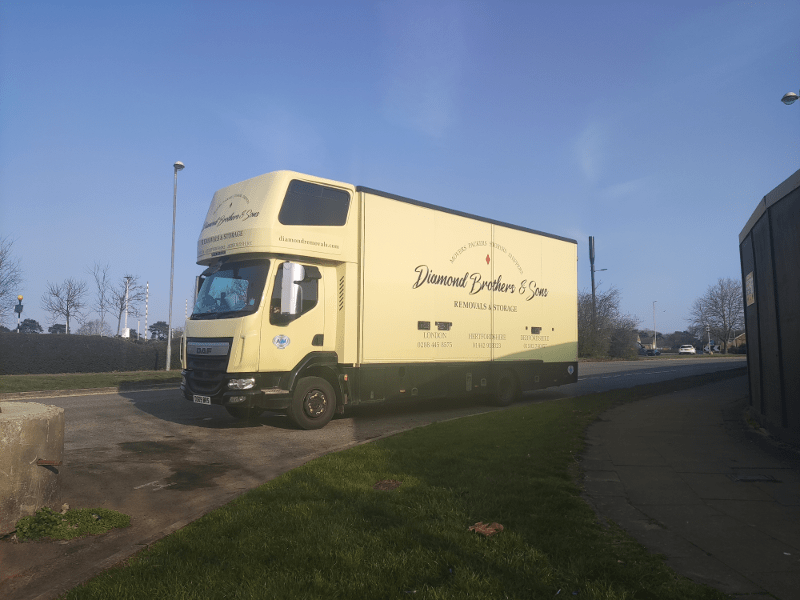 Having a declutter can be really helpful.
One of our most popular services is packing and moving clients to our store.
We take the non-essential items or all your items to store or temporary accommodation whilst renovation work is carried out.
It's like a normal move, except there aren't any time restraints involved.
Furthermore, you can plan your renovations and removal with ease.
This is a popular way of making space in your home whilst you have it on the market.
This will show the property's full potential to attract more potential buyers.
Or, if you are having a party/event and require more space, this can also help.
You can store long term or for just a few days – it's up to you.
We can also offer a disposal service, as we are a licensed waste carrier.
We don't offer deals like £1 for the first month or half price for 8 weeks.
This is because these types of deal usually come with terms and conditions, they then bump the prices back up anyway.
Our prices are always low and will always work out to be more competitive long-term.
We offer great rates, it's that simple.
Diamond Removals' Self Storage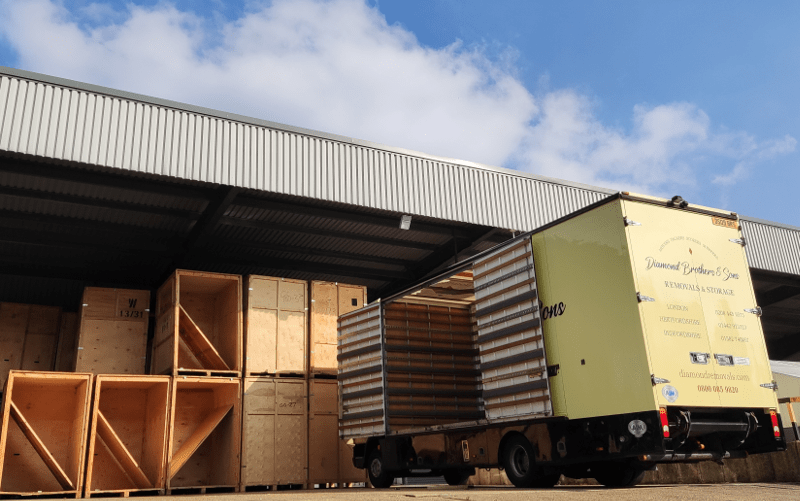 Use our self storage units to store just one or two items, or maybe more.
We offer single item storage as well.
No need for a complete unit now, contact us today.
You can come to us, or we can bring our 35 sq ft units right to your front door in multiples if required.
We also have external 20ft 160 sq ft storage containers available at our depot in Hemel Hempstead.
Whichever option you choose, we can move it all for you or you can do it all.
We have indoor crates that can be brought to your location.
Furthermore, once filled, they are transported back to our storage depot.
You can be sure that they are safe whilst in storage.
This option also eliminates multiple handling of your items minimising potential damage.
This can be reassuring for those using storage for the first time, or storing valuable goods.
We also offer a full packing service, and each crate will be accompanied by a full detailed inventory.
On the date of your choosing, we'll bring the crate back to you with your items exactly as you or we packed them.
It's easy, simple, and most importantly cost effective storage.

We offer some of the most competitive prices locally, and can help you maintain your archive storage needs with a great price per box solution.
This comes with a collection and delivery service if and when required.
No need to store unnecessary archive files for any longer than required, we can also provide a shredding service to maintain your storage costs and save you/your company money.
Archive files can take up lots of needed room, therefore.
Diamond Removals would always recommend you to use storage.
This can allow you to keep these files safe without having them in the way.
We offer flexible business and archive storage solutions.
This is for excess office furniture and IT equipment with a collection and delivery service.
Everything is fully inventoried for quick and easy access, quick redelivery and setup.
We also offer a dismantle and assembly service.
Business storage can be intimidating at first.
However, don't let this bother you.
We will take care of all of the hard work for you, meaning you can carry on with business as usual.
Office furniture can often be very heavy, bulky and awkward.
Using small storage units isn't always ideal.
So, Diamond Removals also offer 20ft storage containers for effective storage solutions stored outdoors or indoors.
Depending on the nature of your goods, we will be able to assess and evaluate your requirements.
After this, we can continue with the process and allow you to benefit from the most fitting service that we offer.